Chakras and Their Locations
View Entry as RSS Short Url

Author: Kevin Baker @ 09/07/08 - 11:18 pm

This entry has had 3330 pageviews.
Do you believe that chakras are aligned as perfect as the image here?
I don't for very good reasons, no human is perfectly balanced all the time, not possible.
Click on the image to view full size for easier evaluations.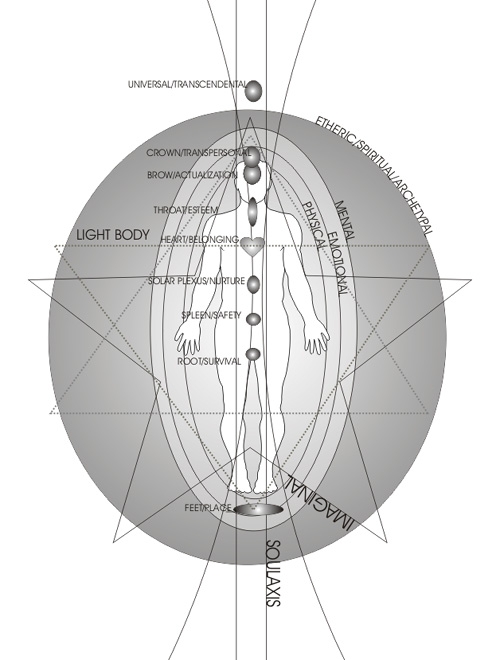 In order for us to be so perfectly aligned all the time, we would have to become robots.
When I see a persons aura , the colors and the chakras are never in alignment.
People go though emotional change, usually constantly and the colors or the placement of them within the aura is ever changing.
Our aura changes with each thought, every one.
The colors can be at any place within the aura at any time.
The chakras are just a liquid in their placement as they are in the generating of the aura color energy.
We have seven major emotions. We also have seven to the power of seven combination's.
Which for trivia is 823543.
Add to that we can at the same time experience 100's of different variations or instances of each emotion at the same time.
The human brain makes an average of 400,000 decisions per minute.
So we can be quite the variety of energy and or colors at any time.
When I veiw a persona aura, it can be through the physical eye or the third eye. Both are different visions.
I see the aura as swirling and moving constantly, the colors ever changing , though some stay quite consistent at times in their position and the illumination of the colors when a person is holding on to the emotional response that creates it.
The chakras are moving around and even mixing within each other. This I contribute to mixed emotions.
We do at times have conflicting or ambivalent responses to situations be it for political or personal reasons.
Within the humanaura the colors are never in the position as depicted by the image here.
Your throat chakra can be merging with your sacral chakra at the same time.
Example: Your talking to someone about a television show at the same time as being attracted to them.
So depending on how strongly you wish to say your thoughts about the show or how strongly your attracted to them, will result in the throat chakra or the sacral chakra moving and merging with the other chakra.


Summary

All energy and all the colors within the humanaura are constantly changing in variations of intensity and position that are not computable.